Bumper Repair
If you are looking for bumper repair experts, you have come to the right place. Lewisham Smash Repairs provide services for your cars damages such as bumper bar fixes, car restoration from its damages and a lot more. Bumper repair is one of our major smash repair services. The Scruffs, scrapes, scratches, gouges and dents on your bumper can take away your vehicle's appeal and value. This is something that you don't want on your car. Instead of wasting your money for an expensive and complete bumper replacement, often our Smash Repair experts can use new and more cost-effective processes to restore your bumper to pristine condition. We are providing Bumper Repair service at Annandale, Macdonaldtown, Glebe, Ashfield, Sydenham, Camperdown, Canterbury, Leichhardt, Summer Hill, Tempe, Erskineville, Hurlstone Park, Stanmore, Dulwich Hill, St Peters, Lily Field, Haberfield, Marrickville, Petersham, Chippendale, Newtown and Sydney areas.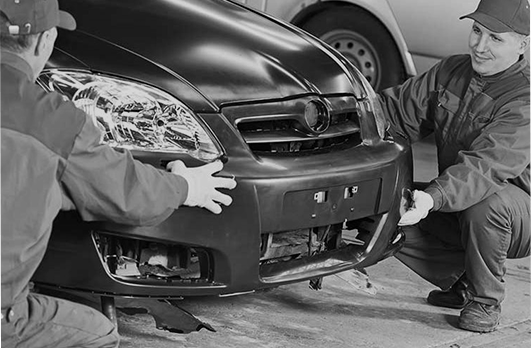 Quality Bumper Repair Services
Lewisham Smash Repairs along with trained technicians provides bumper repairs along with other smash repair services. Having years of experience dealing with minor car body repairs, our bumper repair services can be carried out in just a matter of repair time and cost. In fact, it will take few hours in order to repair your car's bumper professionally, which will enable you to save time and of course money. Here at Lewisham Smash Repairs, you can trust on bumper repair, car paint service and expect to receive:
Lewisham Smash Repairs use best of kind paints which ensure that it will seem nothing has happened unto your bumped car.
Recent Work on Panel Beating
Types of Bumper Repairs
If you need work on scratches, dents, or other marks, our experts will fix any kind of external damage back to "as new" condition. The previous damage will be undetectable. We use the latest techniques, combined with a lot of experience, to make sure your car is looking fabulous.