Our automobiles make it easy for us to get where we need and want to go. We normally select a vehicle that is attractive and, more importantly, safe. In the unfortunate event that we are engaged in a car accident, we want our vehicle to protect us. Our car must be in good working order both inside and exterior in order to accomplish its duty. Many cars on the road nowadays, for example, require bumper repair. Bumper repairs in Sydney are considered as one of the most common auto body repairs now required. It is, nevertheless, necessary maintenance if you want your car's bumper to continue to function properly!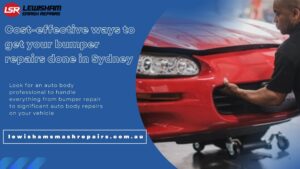 The role of a bumper
The purpose of your front and rear bumpers is to keep you and your engine safe. Check out the definition of a Bumper to learn more about what it is and what it does. It is commonly a metal, plastic, or rubber bar placed on either end of a vehicle to absorb impact in the event of a collision, as well as a protective device for absorbing shock or preventing contact. However, if it is not in good working order, it will be unable to perform its function. If your automobile has been in an accident and the bumper needs to be repaired, it is probably weak.
This means that if you were in an accident, it would be unable to properly protect you and the occupants in your vehicle since it is insufficiently robust. If this is the case, your bumper must be repaired. It plays a significant role in the overall safety of your car, which is crucial to everyone.
Getting the cost-effective repairs
It's not difficult to have your bumper repaired. Remember that certain dealerships and even independent auto body shops may inform you that your bumper needs to be replaced. This may typically be avoided with contemporary technology and skill. You'll spend a lot more money if you replace your bumper rather than repair it.
It will also take longer because you must wait for them to order the bumper and supplies, for them to receive them, and for them to have time to complete the replacement. Bumper repair, on the other hand, can normally be completed in two or three hours. If you discover a good auto body shop, they might offer to fix your bumper while you're at home or at work, which is incredibly convenient.
Choosing to repair your vehicle's bumper will save you time and money, both of which are quite valuable to us! An extra plus is that when your bumper is restored, you can't tell you had a poor bumper because it appears like new!
Final thoughts
So, since Sydney Bumper Repairs isn't going to break the bank or take up too much of your free time, you should hire a contractor to get your bumper in good working order so it can do its job. When it's all said and done, you'll have a safer vehicle that also looks beautiful!